NEW YORK CITY – Chaos erupted outside the Roosevelt hotel, which is currently serving as a migrant intake center, when 12 House Democrats tried to hold a press conference to speak about the migrant crisis. 
Chanting "go back to your country," protestors with megaphones yelled at the migrants and House Democrats. 
The Congressional representatives from New York, New Jersey, Texas and Illinois were all taking a tour of the intake center and were there to weigh in on the migrant crisis. 
"As you can see this is a contentious issue," Congressman Adriano Espaillat said. "But we are all Americans. We all believe in the American dream."
Congresswoman Alexandria Ocasio Cortez outlined three proposals they all agree on that could help with the migrant crisis.
Increased federal resources to the city

Sped up work authorization

And an extension of immigration parole, so migrants from Venezuela can start working immediately when they arrive 
"An extension of temporary protected status for Venezuela since they are the largest population that is arriving here," Congresswoman AOC said. 
Lawmakers only stayed for under 10 minutes before most of them were ushered back inside. 
Before he left, Congressman Jamaal Bowman emphasized that there needs to be better communication between federal and local authorities   
"What we need more is leadership in terms of collaboration, from the very beginning there has been a lack of communication," Congressman Bowman said. 
More than 113,000 migrants have passed through NYC since last spring, with nearly 60,000 migrants still currently in the city's care.
The White House has repeatedly said that the solutions to this crisis lies with Congress, and it's up to them to pass meaningful immigration reform. 
But it is unlikely that Democrats and Republicans would be able to come together on a bipartisan agreement to make real policy changes in the near future. 
However, Democrats argue that there are things the Biden administration can do on their own, such as expanding Temporary Protection Status to migrants from more countries.
Tensions outside the hotel were high even after Congressional members left.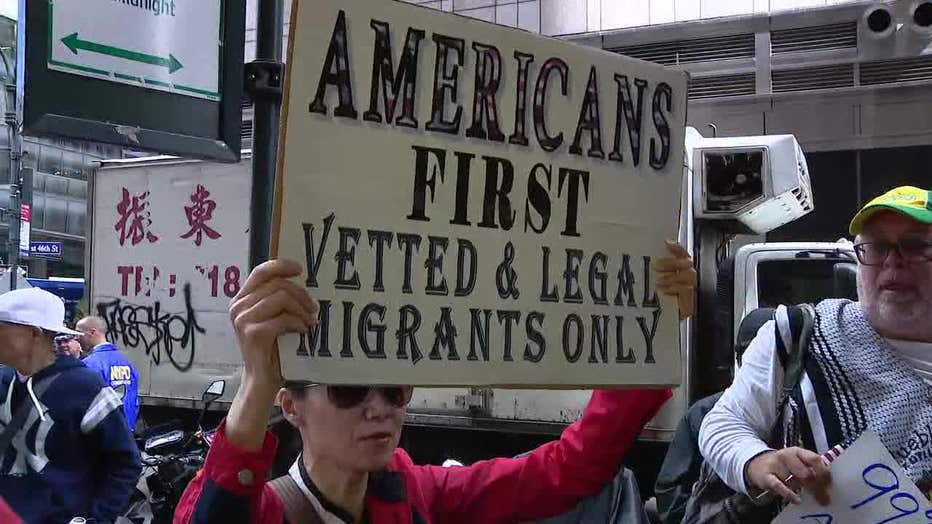 One woman who says she lives at the Roosevelt hotel and came to New York seeking asylum, insisted they just want to work. 
"We want a future, we don't want to depend on the government, we want to be independent, we want to have a normal life," she said. 
Mayor Eric Adams also announced late Friday afternoon that the city had entered an official lease agreement with the federal government to use the Floyd Bennett field as a migrant shelter. 
"But let's be clear: If the federal government were to issue an emergency declaration, additional federal space and funding would become available to better manage this crisis," Mayor Adams said in a statement. "Further, as I have said before, because we haven't seen meaningful policy changes that would alter the course of this crisis, we've been forced to unsustainably open new site after new site as asylum seekers continue to arrive by the thousands. This is not an adequate solution or any sort of long-term plan by the federal government to this national problem."
A bipartisan group of Staten Island lawmakers announced almost immediately following this announcement that they will be filing an injunction in court to stop the construction of this shelter. 
link