Issac Castellano, a Venezuelan national who crossed the southern border in August, has been living in New York City since October and at the Watson Hotel since December—at least up until this week.
On Sunday, the 21-year-old came back to the Manhattan hotel he's been staying at for the past month and a half to find that he'd been locked out. The city has begun transferring single migrant men to the Brooklyn Cruise Terminal so the Watson can be repurposed for migrant families with children.
Castellano boarded the bus for the Brooklyn facility on Sunday, but after one look around the cruise terminal, he decided to make his way back to Manhattan and to alert his fellow migrants of the conditions at their proposed new home.
Unable to access rooms in the hotel, Castellano and other migrants being asked to relocate camped out overnight. As of Monday afternoon, they remain stationed in tents on 57th Street, waiting to be let back in.
"I was promised a more stable place to stay, here at the Watson," Castellano told Newsweek. "I feel like I was lied to."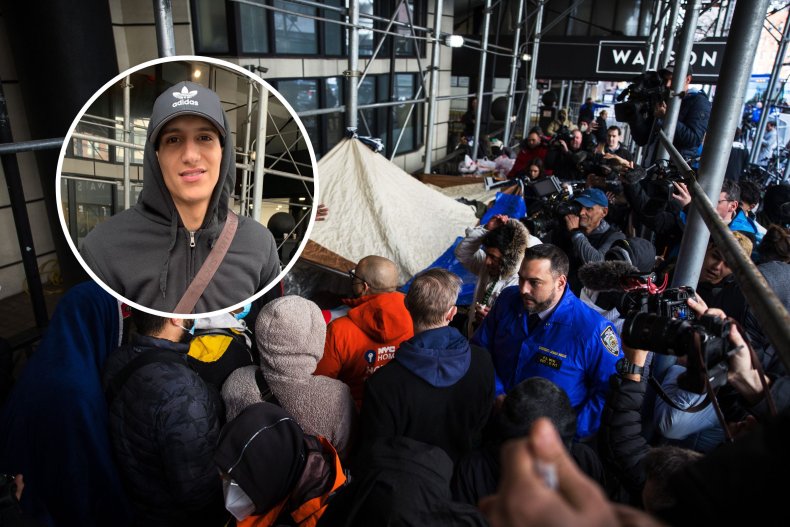 City officials estimate that in the last year, more than 43,000 migrants have been bused up from southern U.S. states to New York City. What began as an effort to put pressure on the Biden administration to address the situation at the border has strained the resources of metropolitan cities like New York City, and left the lives of many migrants in disarray.
New York City Mayor Eric Adams has increasingly demanded more action from President Joe Biden, who will arrive in the city on Tuesday as part of his weeklong infrastructure tour.
Adams has argued that it's unfair for cities like his to "carry the weight of a national problem," as governors from states like Texas bus migrants up north to draw attention to the unprecedented numbers seen at the border since Biden took office two years ago.
While the nation looks to find a long-term plan to address immigration, Adams asked last week, "What is the short-term plan?"
"If my house is burning, I don't want to hear about fire prevention. I want to put out the fire, and the fire right now is the over-proliferation of migrants and asylum-seekers in several cities in the country," the mayor told MSNBC's Morning Joe on January 25.
Earlier this month, Adams appeared at a press conference in El Paso, Texas, warning that the streets of New York City are not "paved with gold" as some migrants have been falsely told.
"In New York, you go there, you're going to be living in congregate settings…there is no more room in New York," Adams said, adding that "migrants don't deserve this and the people who live in the cities don't deserve this. We expect more from our national leaders to address this issue in a real way."
In a statement shared with Newsweek, the mayor's office insisted that the Brooklyn Cruise Terminal will provide the same services as the Watson, but the migrants who got on the bus Sunday have come back to rebel against the conditions they witnessed.
Photos and videos shared online show the new center with cots packed in tight rows. Castellano told Newsweek that there was little privacy, only four bathrooms for more than 400 people, no place to store the one personal suitcase they were allowed to bring and no outlets for them to charge their phones.
Other men who went to the Red Hook facility described it to Gothamist as being extremely cold with no apparent heat or hot water.
"We do not want to sleep there like some dogs," Castellano said. "We want a better quality of life."
The individuals in the crowd of migrants camped outside the hotel have been loudly cheering as others return. On Monday afternoon, one migrant lugging his belongings east on 57th Street was welcomed back with a round of applause.
A spokesperson for Adams said the Brooklyn facility is a heated, temperature-controlled facility with roughly 85-90 toilets on-site and that each person being housed at the terminal has an assigned storage space.
Part of the reason that migrants like Castellano are refusing to move to the Brooklyn facility is its location in Red Hook—a neighborhood that's notoriously hard to get to by public transportation. Others being relocated have found jobs and enrolled in English language classes nearby, so moving to the cruise terminal would also mean moving 8 miles from their new places of work or schooling.
Outside the hotel, one migrant was heard shouting to the press, "Enough. We are illegal, that's clear to us. But f***, be compassionate, we are humans like everyone here. We are professionals. I am a machinist. I want to keep studying."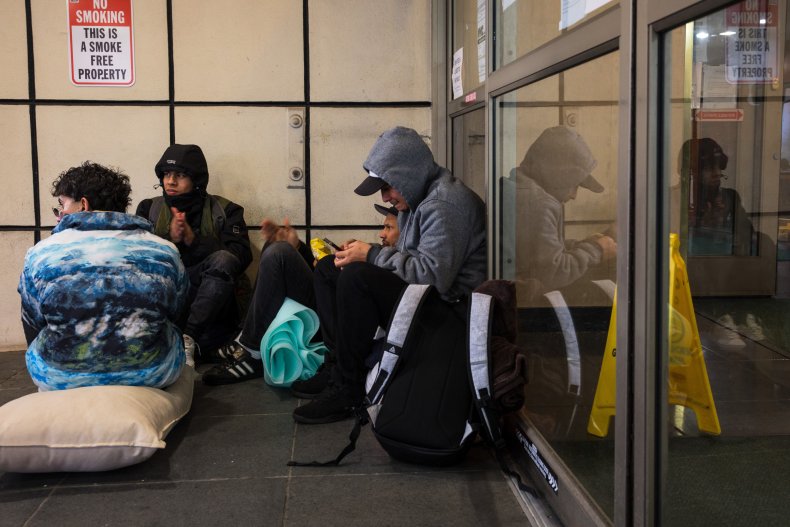 Earlier this month, the New York Post reported that Adams struck a $275 million contract with the Hotel Association of New York City to house at least 5,000 migrants across the association's 300 hotels for the next six months.
"The city is saying they want to use this facility for families, which is a nice story to tell, but that doesn't mean we should pick one group over the other," L.K., one of the volunteers staged outside the Watson, told Newsweek. "This is not migrants over New Yorkers, this isn't men versus families, this is people standing together because they believe all people deserve housing."
Castellano said his biggest concern right now is to find a bed where he's certain he can stay for at least three months. Before he was moved to the Watson, he was staying at an 84,000-square-foot temporary humanitarian relief facility on Randall's Island, which closed in November less than a month after it was opened. He said he's moved so many times since arriving in New York City, he knows every borough.
"I'm not asking for asylum. I'm not asking for anything. I'm asking for a bed, a stable place to sleep," Castellano said.
Volunteer Meryl Ranzer, who was outside the Watson on Monday, criticized the inhumane treatment of migrants. She advocated to Newsweek that migrants should be able to stay at the Watson because "there's other hotels the city can contract," specifically for families.
On Monday, there was a strong police presence outside the Watson as migrants remained in the vicinity by the hotel entrance. While 57th Street has been blocked off between 9th and 10th avenues, one officer with the New York Police Department's (NYPD) public information office told Newsweek there are no current plans to forcibly remove migrants from the encampment.
Adams' office said police only responded to the scene after non-asylum-seekers began rushing the hotel to enter.
Volunteers and migrants alike worry how police and the ongoing media coverage could sway public opinion of their efforts to remain at the Watson.
"Unfortunately what's happening right now is the NYPD has shut down one entire direction of 57th Street and put up a lot of barriers," L.K said. "It makes it look like it's a scary and dangerous situation, which it's quite obviously not because everybody's just standing around calmly and hoping that they just get placed into housing so they can get back to work."
Despite the struggles Castellano has faced to get here, and what will likely be a tough road ahead, he urged other migrants to continue fighting for "what is fair." As he reminded his comrades to stick together, another migrant chimed in, "In unity, we find strength."
link