After the president's allies blocked a recall referendum against the socialist leader, tens of thousands of demonstrators shut down Caracas' main highway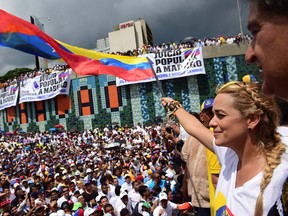 Article content
CARACAS, Venezuela — Anti-government protesters filled the streets of Venezuela's capital and other major cities in a show of force against Presidential Nicolas Maduro, whose allies enraged the opposition by blocking a recall referendum against the socialist leader.
Article content
Tens of thousands of demonstrators shut down Caracas' main highway on Wednesday, many chanting "Democracy yes! Dictatorship no!" And police clashed with protesters in other cities in what opposition leaders called "the takeover of Venezuela."
Nationwide at least 140 people were detained by police, according to the Foro Penal human rights group. A police officer was shot and killed, and two others injured, under unclear circumstances in central Miranda state.
Article content
"Maduro has shown how scared he is that the people will express themselves," opposition leader Henrique Capriles said.
The protests come after electoral authorities blocked a recall campaign against Maduro last week. The faceoff escalated on Tuesday when the opposition-led legislature voted to put Maduro on trial, accusing him of effectively staging a coup.
Article content
Opposition legislators argued that Venezuela's leader has effectively abandoned the presidency by neglecting his job. And many Venezuelans blame him for the country's triple-digit inflation, free-falling economy and shortages of food, medicines and other basic goods.
Government supporters staged a much smaller rally attended by Maduro downtown.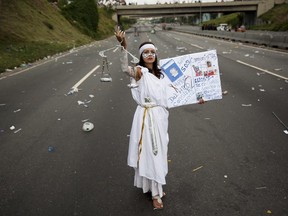 Opposition leaders ended Wednesday's national day of protest with call for a general strike on Friday. They also threatened to march on the presidential palace in the heart of the city on Nov. 3 if the government doesn't reverse its decision to block the recall effort.
The opposition has not been allowed to protest in front of the presidential palace since a massive march there helped precipitate a short-lived coup against former President Hugo Chavez in 2002.
Article content
On Wednesday, police fired tear gas and clashes with police in provincial capitals that left several wounded. In the border state of Tachira, the windows of the heavily-guarded regional electoral office were broken and anti-government slogans spray-painted on the entrance. In a video widely circulating on social media, a young man shouted in the face of soldier in riot gear maintaining a line against a crowd of masked protester.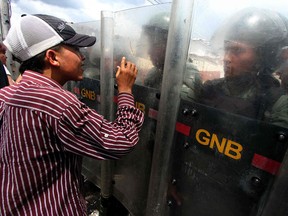 "I'm going hungry! If you're going to shoot me because I'm hungry, shoot me," the protester said.
In Caracas, students casually sat on the country's main highway. One protester dressed as Lady Justice, with a scale and white blindfold.
Victoria Rodriguez, 18, said she hopes to cast her first vote for the campaign to recall Maduro. A recent high school graduate, she said she feels like she's living in an emptying country; 15 of her 25 classmates have already left since graduating in July.
Article content
She said she is frustrated that opposition leaders haven't called for more dramatic action, like sleeping on the highway overnight or attempting to paralyze the capital for days at a time.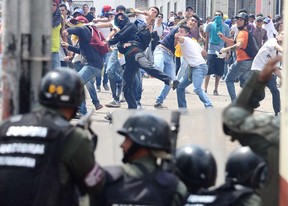 "People are tired of going to the streets and then going home," she said. "The opposition is letting the streets go cold. They are giving the government too much time to manoeuvr."
Congress was expected to take up the issue of Maduro's responsibility for the country's worsening political and economic crisis Thursday. The result of that debate is unlikely to have much impact, however.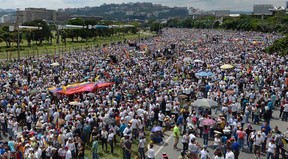 Unlike other countries in Latin America such as Brazil, where Dilma Rousseff was removed from the presidency in August, Venezuela's National Assembly can't impeach the president. That power lies with the Supreme Court, which has never voted against Maduro.
Article content
The government and opposition have agreed on an attempt at dialogue to defuse the crisis.
Talks sponsored by the Vatican and other South American governments are set to begin Sunday in the Caribbean island of Margarita. Maduro, who met with Pope Francis privately at the Vatican on Monday, said he will travel to Margarita to personally launch the talks.
But the two sides have tried dialogue during previous crises, and the opposition has scant hope for a breakthrough. Although Venezuelans overwhelmingly blame Maduro for their economic woes the ruling party is in firm control of institutions like the military and has shown no interest in yielding to the opposition.

With files from Luz Dary Depablos
Inside the border town where crowds of desperate Venezuelans go for food: 'I've never been hungry like this'

Kelly McParland: How socialism turned oil-rich Venezuela into a basket case

Venezuelan president promises free houses, cash to Olympians — amid country's worst economic crisis ever
link