São Paulo, Brazil – Venezuela's President Nicolás Maduro arrived in Brazil on Monday for the first time in eight years to attend a summit of South American leaders which begins Tuesday. Upon his arrival in the capital Brasília, the authoritarian leader met privately with Brazil's President Luiz Inácio Lula da Silva, who called the meeting a "historic moment."
Maduro's last visit to Brazil was in 2015 for the inauguration of former President Dilma Rousseff, who belongs to the same political party as Lula. As the economic situation worsened and human rights abuses by Venezuela's government increased, relations between the two countries cooled and then completely froze during the administration of right-wing President Jair Bolsonaro between 2019 and 2022. 
President Lula has promised to resume relations with its northern neighbor and met with Maduro at the Palácio do Planalto, the official workplace of the president. After a closed-door meeting, the two leaders made a statement about the future partnership of the two countries. 
"It is a pleasure to welcome you here again," said Lula. "It is hard to believe that so many years have passed without dialogue with the authority of an Amazonian and neighboring country, with which we share an extensive border. We are taking international relations seriously again." 
Lula also defended the legitimacy of Maduro's administration and criticized opposition leader Juan Guaidó, who in 2019 was declared by the country's National Assembly as the acting president of Venezuela only to have his presidential claim ended earlier this year after failing to garner any real momentum to remove Maduro from power. 
"It is absurd, for people who defend democracy, to deny that you are president of Venezuela, elected by the people, and the citizen who was elected to be a deputy to be recognized as president," said Lula, referring to Guaidó.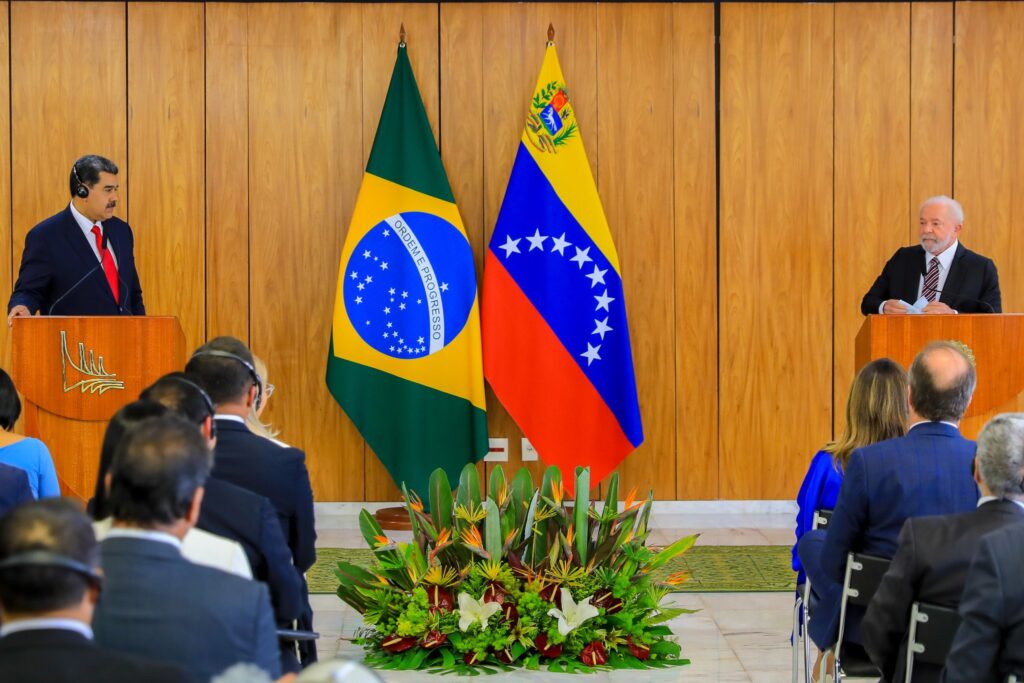 "It is in your hands, Maduro, to build your narrative and turn this game around for Venezuela to return to being a sovereign people, where only its people, through free voting, say who will govern the country," he added.
Brazil's leader also spoke of re-establishing stronger trade relationships with Venezuela, saying that the two countries once traded around USD $6 billion annually, but this has fallen to about USD $ 2 billion today. 
"The relationship between our countries can also be cultural, economic, scientific and technology exchange, in the fight against drug trafficking on our borders," Lula said. 
Maduro thanked his counterpart for the warm reception and said he plans to deepen relations between the two countries. 
"We are prepared to resume virtuous relations with Brazilian businessmen," said Maduro. "Venezuela's doors are open, with full guarantees for the entire business community so that we can return to working together." 
He also asked that the doors between Brazil and Venezuela "never close again" and said that the two countries should remain "always united." 
"Fruitful, affectionate and important meeting with brother President Lula. It is the resumption of brotherhood between Brazil and Venezuela," said the authoritarian leader. 
South America Summit
Beginning Tuesday, South American heads of state will meet in Brasilia to discuss relations between the countries. The presidents of Argentina, Bolivia, Chile, Colombia, Ecuador, Guyana, Paraguay, Suriname, Uruguay and Venezuela have confirmed their attendance at the summit.
Only Peru's President Dina Boluarte will not be able to attend due to internal legal impediments in her country. Instead, she will reportedly send a representative on her behalf. 
According to Gisela Padovan, secretary for Latin America and Caribbean at Brazil's Ministry of Foreign Affairs, the summit aims to "resume dialogue with the South American countries."
"We are aware that there is a difference in vision and ideology between the countries, but President Lula wants to reactivate this dialogue based on common denominators with the countries," said Padovan. 
Although Brazil's government has avoided alluding to any specific proposals, there is an expectation that the presidents will discuss more concrete ways to expand integration between the countries, including the possibility of creating or restructuring a South American cooperation mechanism, which brings together all nations.
Currently, there is no bloc with these characteristics, since Mercosur, for example, is formed only by Brazil, Argentina, Uruguay and Paraguay.
link