A guide to one of the Caribbean's most exotic islands, from cliffside culinary retreats to scaling volcanic spires.
In some ways, planning a Caribbean vacation is easy — nearly any of the archipelago's 13 countries and territories deliver on the promise of sandy beaches, blue waters, and warm sun. And if a beach vacation is on your summer to-do list, that's hard to mess up in the Caribbean. But St. Lucia, closer to Venezuela than Miami, puts its unspoiled foot forward as a spot that can suit nearly any kind of vacation.
Want to sit on a beach, cocktail in hand, steps away from a luxury hotel? There are resorts for that. Heading out with the family? They've got you covered there too. Want a story to take home that you'll retell for years? That's where St. Lucia's topography comes in. Thanks to the volcanic makeup the island is more rugged and wilder than non-volcanic Caribbean islands. If you want to crush some adrenaline-pumping hikes or drive through a volcano, this is the island for you.
While St. Lucia is small — about a quarter of Rhode Island's size — it can help to get oriented. Visiting most often means sticking to the more developed west side of the island. Most of the residents live in Castries, the capital on the northwestern side, and its surrounding towns. The other major city is Soufrière, about an hour's drive south along the same coast. It was once the capital during the French colonial period. Generally, the southern end of the island is where you'll find more natural scenery, and the island's iconic Pitons, while up north things tend to be more commercial and developed.
Not far from the kitchen of St. Lucia's most famous chef is a farmer's market where he shops daily while putting together a five-course tasting menu. Tucked into the hustle and bustle of Soufrière, where the color inside the restaurant's two floors is matched only by the brightly hued homes in the surrounding neighborhood, chef Orlando Satchell pushes local and sustainable foods, which means a menu of small portions heavily influenced by fish, fruit, and veggies from the island. With a background in fine dining, the plates Satchell sends out are more complex — a reflection of his experience cooking in England, the US, Asia, and the Caribbean — than you'd find at resorts on the island, but still approachable.
Satchell, and his staff, are warm and the chef tends to sit with diners for a chat — meals here are rarely a quick affair. The restaurant is cozy and, if you can, angle for a seat upstairs on the balcony overlooking the water. You might enter never having tried local staples like saltfish and breadfruit or protein dusted in cocoa, but will leave with an elevated sense of what Caribbean flavors can deliver.
Walk a few flights down the side of a cliff, below the Cap Maison Resort, and there, at the back of a protected cove under a thatched-roof kitchen is the fun-loving Naked Fisherman. On the northwest side of the island, about a 35-minute ride up from Castries, is this open to the public restaurant where you'll find well-executed versions of bar favorites, like Kobe burgers and calamari, along with more traditional St. Lucian dishes like a creole fish stew and saltfish. As with a lot of restaurants in St. Lucia, the food rides alongside stunning vistas and warm hospitality.
At TNF the views from any seat in the outdoor restaurant overlook turquoise water. Visit mid-morning with your snorkeling gear and you'll keep busy exploring until lunch, or visit at sunset when the cove comes alive with music and torches. This is a casual, breezy spot where you can get reacquainted with frozen drinks while burying your feet in the sand — or if you're lucky enough to grab one of the comfy beds a few yards from the water's edge. If you're staying at the Cap Maison you have complimentary access to gear like a Hobie Cat sailboat, kayaks, and paddleboards.
In Rodney Bay, where much of the tourism is based around the marina, this spot is one of the better restaurants on St. Lucia for beef (though they do an admiral job with seafood too). The cuts here range from what you'd expect — filets to porterhouses — and rarer options like a hanger steak, to seafood-focused dishes like a bouillabaisse and conch ceviche. The owners usually bounce around the dining room chatting with guests and the attention of the staff is always on point. Rich wood tones you'd expect from an old-school steakhouse are balanced with the neutral tones that help the space feel lighter.
Floating a short swim off Reduit Beach, just outside of Bay Gardens, is the reason this place makes so much sense for families: Splash Island. Full of inflated, scalable obstacles, moored to the Caribbean Sea floor below. Think of it as a floating American Ninja Warrior challenge, manned by lifeguards, for you and kids six years and older to take on, as you climb, sprint, and balance your way across the course. It's the kind of activity you certainly don't mind trying for at least a couple of days.
The six or so towers that comprise the sprawling Bay Gardens Beach Resort on St. Lucia's northern end about a 20-minute ride from the capital, have views of either gardens, the pool, or the beach, and the rooms offer plenty of space for families to have downtime. Park yourself on the beach to watch the sun dip below the horizon, which is also pretty epic from the balcony of your room. All-inclusive, there are five dining options between buffet and more traditional sit-down choices for meals here.
But what sets Bay Gardens apart is a mix of the staff's friendly hospitality and a location with proximity to other attractions. Parents can relax on a lounge chair on the beach while kids splash in the water, or everyone can stick together poolside. But you can also walk to Rodney Bay Marina's commercial area for shopping and yacht watching. For a bit more adventure it's a short ride to explore Pigeon Island National Park, a 44-acre site with some forts the British used to spy on French ships coming and going from nearby Martinique with panoramic views of the ocean and Rodney Bay.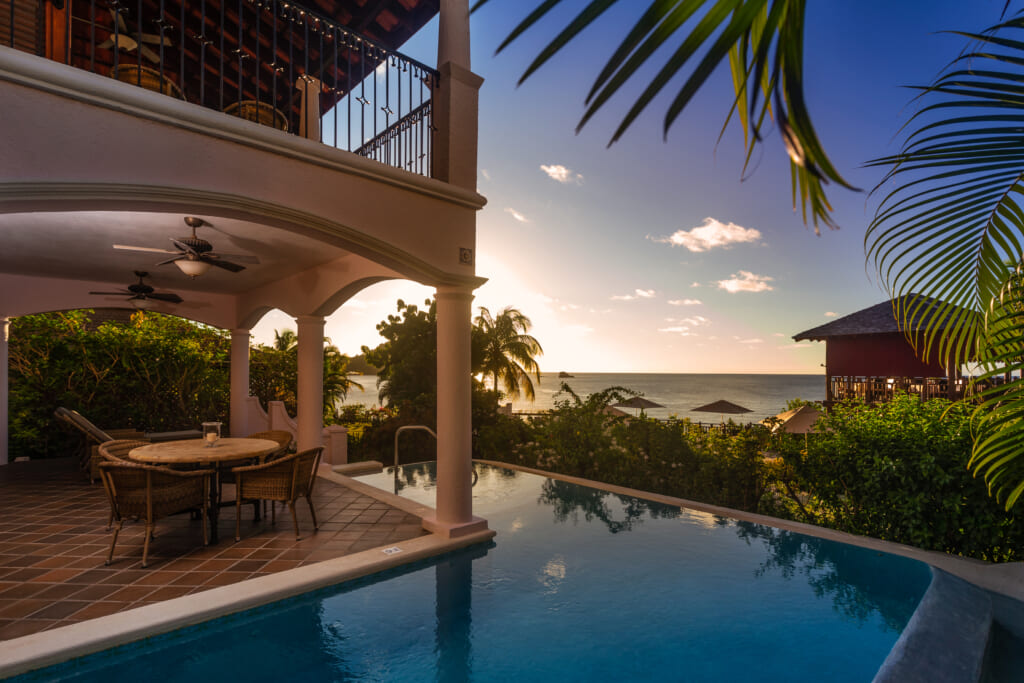 Perched high on a cliff with views north to Martinique in the distance, the boutique Cap Maison is a collection of white-walled, clay roof buildings complete with arches and columns reminiscent of colonial Spanish architecture. Resting on what was a giant sugar plantation, most of the luxurious rooms here have balconies and terraces with water views, and its collection of villas, complete with full kitchens and laundry, are designed for longer-term stays. The grounds here are some of the most immaculately kept of any luxury resort on the island. The rooms inside mix textures and colors: tile floors with rattan furniture and neutral painted walls with brightly-hued rugs and pillows.
The hotel is remote and while it's not within walking distance of much, that doesn't mean you're confined to the property. The St. Lucia Country Club Golf Course, designed by Jack Nicklaus, is a short car ride away and when it opens later this year, Cabot Point, will offer access to Cap Maison guests. The hotel can arrange outings both nearby, with fishing charters, whale and dolphin watching, to ones further away, like touring the Pitons about two hours south. Juxtaposed from the more casual Naked Fisherman is the more upscale, on-property Cliff at Cap restaurant — one of the best examples of fine dining on the island with unobstructed views looking out nearly 180 degrees.
With the Petit Piton volcanic spire in the background, there might not be a better view on St. Lucia than what's in your backyard while at the Stonefield Villa Resort where many of the rooms come with a view of the mountain and the Caribbean Sea — it all comes together to form a 90s-era Microsoft screensaver. On the southern end of the island, in Soufrière, Stonefield has 17 rustic, bright and airy, nature-inspired villas spread over about 26 acres. So chances are good that, outside of the resort's centrally located restaurant, you might not see other guests for your entire stay — if privacy and seclusion are what you're after, this is the spot. The on-property Mango Tree, which is open to the public, has sweeping water and mountain views, an approachable menu, solid cocktails, and lively local music at night.
Villas range from smaller versions with a garden view to ones with five bedrooms, over two floors, with a pool and vistas of the Petit Piton. Most have kitchenettes or full kitchens, for those extending their stay. While the resort doesn't have walkable beach access, they provide a shuttle to rocky Malgretoute Beach or a longer, 10-minute ride, to popular Sugar Beach. The resort can set up a range of off-property activities, from touring a waterfall to an easy nature trail hike to the more challenging Pitons.
The two Piton spires are the iconic symbols of St. Lucia. While you can hike both, the Gros Piton is the easier of the two, but still a solid four-hour round-trip trek. A mix of climbing over rocks, roots, and man-made steps, the hike is broken up by guides to afford views (and a bit of rest) on the way up to 2,619 feet above sea level. At the base of the mountain, the town of Fond Gens Libre is where you familiarize yourself with the climb by consulting a model and meeting your guide (guides are mandatory for the climb). From the summit, you can see the nearby former capital of Soufriere, Vieux Fort, where the international airport is, and the island of Saint Vincent. Below you'll have a view of Choiseul and the Maria Islands.
About a 30-minute ride east of Castries, at the base of the La Sorcière Mountain, you'll find this park dedicated to zip lining with courses for all levels of adventure. Starting with the aerial gondola up, the adrenal-line tour hoists you 2,000 feet above sea level for a two-hour tour through the rainforest with a mix of riding and hiking, where you'll learn about and see local wildlife and plants.
From this small shop within the busy commercial area of Rodney Bay is a different kind of Segway tour. It's less mall cop and more riding on a rig outfitted with gnarly, knobby tires capable of off-roading. First, you'll practice getting a hang of the machine — which is easier than you'd expect — then your guide leads you up to Mount Pimard with a history lesson of the US, British, and French occupations in St. Lucia. You'll stop to take in views of a lesser-known, locals beach and views of Pigeon Island. Not into Segways? This tour operator can arrange everything from barhopping to snuba to zip lining, and they'll pick you up at your hotel.

Tags: Caribbean Food & Drink St. Lucia Travel

link