Venezuelan national airline Conviasa is launching a new route linking Venezuela and Syria…
Essentials of Conviasa's Caracas to Damascus route
Conviasa has introduced on social media that it intends to launch a flight between Caracas, Venezuela (CCS), and Damascus, Syria (DAM).
The start day, timetable, and frequencies, haven't but been uncovered, but need to be declared soon. Conviasa last served Syria in 2012, when the airline operated a route from Caracas to Damascus to Tehran.
Then in January 2020, Conviasa declared it would convey again the Caracas to Damascus route as of March 2020. Having said that, with the timing coinciding with the pandemic shutting down global travel, that route never returned. Now, about a few several years later on, it seems like Conviasa is giving the route yet another consider.
Primarily based on when the airline last released a timetable for the route in 2020, we can expect that the ~6,600 mile flight will be blocked at close to 12hr30min eastbound and 15hr westbound. Here's what the planned timetable was past time for after weekly assistance (the airplane sat on the floor for 24 hrs, presumably so the crew could function the identical return flight, somewhat than paying out a 7 days in Syria)
Caracas to Damascus departing 4:00PM arriving 10:30AM (+1 day)
Damascus to Caracas departing 10:30AM arriving 7:30PM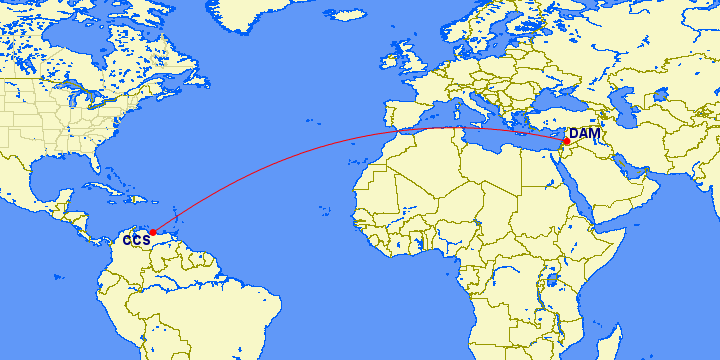 Conviasa's fleet at the moment is made up of 11 aircraft, such as 3 Airbus A340s, one particular Airbus A319, and seven Embraer E190s. Conviasa recently picked up two Airbus A340-600s. These are planes that applied to fly for Iran's Mahan Air.
Goodness, when you're sourcing your planes by means of Iranian airlines (which commonly acquire planes by just producing them "disappear), you know you have acquired an exciting fleet. As a lover of A340-600s, I'd oh-so really like to fly with Conviasa, but I'm not holding my breath on that happening for now…
Other attention-grabbing flights to & from Venezuela
Caracas to Damascus looks pretty on-model for Conviasa. For example, in April 2021, Conviasa released a Caracas to Moscow flight, when in June 2022, Conviasa launched a Caracas to Tehran flight. Incorporating services to Damascus seems to make best feeling, supplied the carrier's technique. I'd sure be curious to see what's in the cargo keep of all these flights…
I feel the next large problem is when the Caracas to Pyongyang service will be launching, as that appears to be like a big gap in the carrier's network, no?
Bottom line
Conviasa intends to launch a new route from Caracas to Damascus. The airline utilized to function this services back in 2012, as element of a greater route to Tehran. Then the airline was heading to restart this route in 2020, but that was paused because of to the pandemic.
What do you make of Conviasa's planned Caracas to Damascus route?
(Highlighted image courtesy of Andres Ramirez)
connection